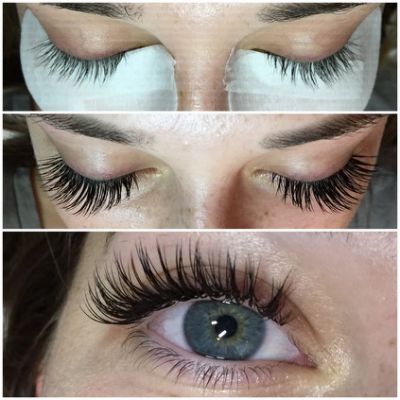 What are Eyelash Extensions?
They are individual human hairs or clusters of human hair that are attached by an adhesive specifically designed for eyelash extensions. We carry several different systems. The extensions are attached to your own lashes. They can be designed to look totally natural or dramatic. The lashes come in 5 different Lengths. The choice is yours.
We are the most experienced and knowledgeable in eyelash extensions as we have been doing them for over a decade. If you're in Palatine, Arlington Heights, Cook County, or Inverness, IL, contact us to learn more about extensions, permanent makeup, hair coloring, and more. Claude Thomas Salon & Spa has been an innovator in the beauty industry and our vision in trends are far-reaching. There are two different systems.
One can stay attached up to 2 weeks and The other up to 4 to 6 weeks. Touch-ups are required to maintain them on a long-term basis. The life cycle for a Growing Eyelash is a two-month cycle.
Are they Safe?
Yes. The application is safe with a certified and experienced Esthetician. A written Instruction sheet is given to you along with verbal Instructions on the care and maintenance of your eyelash extensions.
Eyelash Services
The two-week eyelash extension
$80 to $125
The 4 to 6-week eyelash extensions
$190 to $250
Eyelash Perming
$75 to $90
Eyelash Tinting
$65
Eyebrow Tinting
$65/td>
Prices are subject to change without notice.
Are they damaging to my own lashes?
No. Damage could occur if you do not follow the proper care or try to remove them yourself.