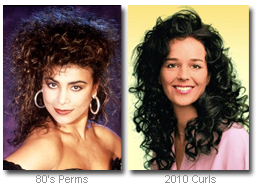 Just like the term "perm" is outdated, so are the old perms of the past.
Re-texturizing is back for the new curl looks!
The difference is night and day. The perms are more gentle and impart shine alone with big bouncy curls. You can achieve big bouncy curls, a beach wave, a textured root lift or just curled ends. What was old is new again!
Rethink….
Progressive new curly looks. Do you have straight hair but long for curls, or do you have some curls or waves but can't get the soft look and structured curls devoid of frizz?
RE-TEXTURIZE it!